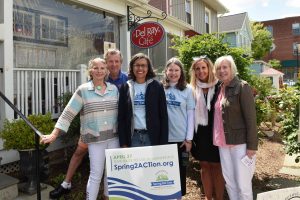 On Wednesday, April 27th, Alexandrians came together and raised over $2.5 million during ACT for Alexandria's Spring2ACTion. Del Ray Café was host to At Home in Alexandria (AHA!) for the ninth consecutive year and we donated 10% of the days sales – over $700 – to AHA!
We also announced, with the help of The Zebra Press Z-TV, our 10th Anniversary donation. May 1, 2022 was our 10th Anniversary. We announced that we are celebrating our great fortune to have survived the pandemic with the continuous support of the Del Ray and Alexandria communities by again donating 5% of our May sales to ACT for Alexandria.
We also announced that our match partners from 5 years ago, The Jen Walker Team REALTORS and Wendy Brown will again be matching our donation. We can now also announce third match partners, Tom Crowley & Christena Nielson. In 2017, for our 5th Anniversary, we donated $10,000 and with our two match partners, a total of $30,000 was donated to ACT. Now, with 3 partners, we are hoping to make a donation of over $40,000.
Please come in during the month of May to help us give a bigger amount to ACT this time around! And join us on June 6th when we present our donations to ACT for Alexandria!